The quantification of relative human insignificance
Buzzy, an astrophysics PHD, is working around the clock to secure his future. Katie, his girlfriend, is obsessed with trying to make a cat video that will be perpetually viral, but nevertheless believes Buzzy should make time every day to ask her about her day. The Quantification of Relative Human Insignificance is a five-person comedy about navigating the continual tension between being totally engaged in your work, and also available to the people you love.
Music by Jacob Fjeldheim, Book & Lyrics by Lauren Taslitz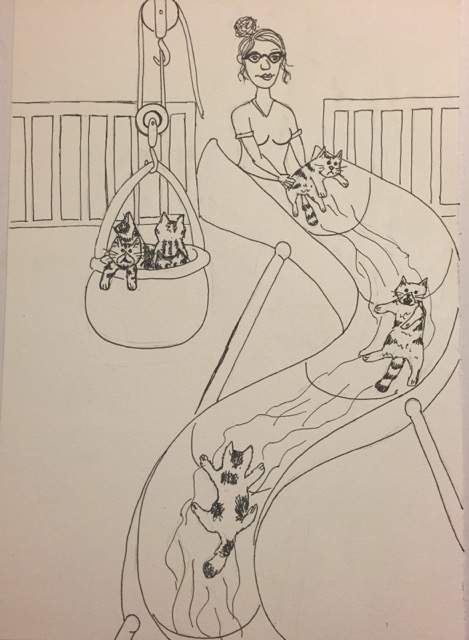 Regretting almost everything
Music by Danny Ursetti, Book and Lyrics by Lauren Taslitz
Regretting Almost Everything is set during a live cabaret show. Tony winner Ted Flynn gives aspiring musical theatre writers Rachel and Marty what could be their "big break": One night in his cabaret to do songs that could turn into a full-length musical . He tells Rachel to write about her long marriage. Because Rachel's songs reveal uncomfortable truths about her marriage, and her unsuspecting husband will be in the audience, she attributes all the songs to a fictional couple she creates. But when Rachel unexpectedly goes off-book, the illusion is shattered.
Demos featuring Jeff Blumenkrantz and Anne L. Nathan
A GAME TO SAVE THE WORLD
Music by Danny Ursetti, Book & Lyrics by Lauren Taslitz
Lu, a 50-ish lawyer, is a life-long gamer frustrated by the lack of video games for adult women and appalled by the rampant misogyny in the industry, and decides to do something about it. She quits her job and leaves home to attend the Game Design program at NYU. After nearly getting kicked out, Lu and her partner, D, make a game that literally enables gamers to help Elon Musk save the world. A Game to Save the World is about world building and virtual environments, whether it's possible to go home again, and the importance of having a reason to get out of bed in the morning.
After They've Gone
Music by Paul Libman, Book & Lyrics by Lauren Taslitz
When Andy and Deena's youngest son, Ryan, leaves for college, Deena collapses into a pile of dirty laundry, unable to imagine her future. But when Andy's business fails, she pulls herself together and they open Frenchify, a place where women go to learn to pretend to be French. The business takes off, but, distracted by worry over Ryan, who has a long history of depression, Deena fails to pull her weight. It is only when Deena is compelled to run Frenchify on her own, and Andy is consequently forced to respond to the emotional demands of their children, that they come to appreciate the burden the other has carried, allowing both the business and their marriage to blossom.